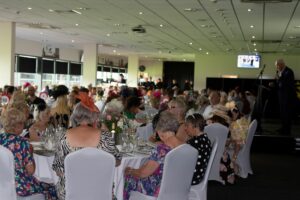 MORE than 140 people watched the action from Ascot Ladies Day at a special racing event at the Pirelli Stadium and helped to raise funds for Burton Albion Community Trust in the process.
The screenings of all seven races along with, a welcome drink, four-course meal and afternoon tea made the day a special occasion for all those who attended
Guests were encouraged to wear their finery and have a flutter courtesy of Steve Stretch bookmakers, with proceeds going to BACT,
Hosted by broadcaster Gary Newbon MBE, the event raised £1,155 plus a donation from the room of a further £100 and the money will support the work that the charity does in its communities.
Burton Albion Chairman Ben Robinson said: "I want to thank everyone who came to the Pirelli Stadium for another great racing event. These are always brilliant occasions and have become a popular addition to the Pirelli Stadium events calendar.
"A big thank you as well to our sponsors Lifestyle Bar, Steve Stretch bookmakers who donated profits to our charity and our brilliant host Gary Newbon.
"We look forward to hosting more great racing events in 2024  and welcome you back in March for racing from Cheltenham."
Will Evans, Head of Community at BACT, said: "I would like to add my thanks to all who helped make the event a big success with the trust benefitting from everyone's generosity. The money raised will go directly towards our work helping make a difference in the community."